News for Thursday, April 09, 2020
|
More News
Tourism Spotlight





Poston Monument




One of our top tourist attractions, the Poston Monument marks the location where more than 17,000 Japanese-Americans were interned during World War II.

More...
---
April 3, 2020
COVID-19 UPDATES... Click on Link for Updates, Notices, Press Releases and Information

The Colorado River Indian Tribes are committed to combating the spread of the 2019 novel coronavirus (COVID-19) on the Colorado River Indian Reservation. Extensive efforts have been made in an attempt to slow the spread of this rapidly growing disease. The Tribal Council has diligently contemplated all enacted actions and continues to develop future protocol in an attempt to restrict access to our community from recreational visitors and impose action necessary to keep people in their homes. The following are links to the stay at home orders issued by the Colorado River Indian Tribes, AZ, CA and NV. We direct you to follow the respective orders of your current place of residence and STAY AT HOME except for essential needs as described in these orders. Do not come to the Colorado River Indian Reservation to visit your seasonal residence or for purposes of recreation while these stay at home orders are in effect. We must all do our part to slow the spread of this rapidly spreading disease. Thank you and be safe.
Colorado River Indian Tribes' statement for Stay at Home Order
R-54-20 Tribal Council Resolution to Require All Non-Essential Businesses to Close and all Non-Essential Personnel to Stay at Home
Arizona Stay-at-Home Order - Executive Order 2020-18
California Stay-at-Home Order - Executive Order N-33-20
---
April 2, 2020
---
April 1, 2020
March 17, 2020

Subject:: Request for Project Review
Ridges at Peoria
18170 N 91st Ave.
Peoria, AZ 85382
FHA Project Number: 123-22100

The U.S. Department of Housing and Urban Development (HUD) has received an application for mortgage insurance under Section 232 of the National Housing Act which involved repair to address poor drainage. Pursuant to the National Environmental Policy Act (NEPA) of 1969 as amended, HUD is preparing an environmental review of the property...
---
---
January 27, 2020
---
Get Involved with your Tribal Government by Serving on a Board or Committee
October 18, 2019
A great way to take part of our tribal community is to serve on a board or committee. The Colorado River Indian Tribes wishes to thank you for taking that initial step forward to participate in our local tribal governance by serving as a Board or Committee member. The Tribal Boards and Committees serve as an advisory or regulatory group that set standards, make decisions regarding policies, and provide guidance to programs under the Tribal government. As a volunteer your time, knowledge and leadership skills can make a difference in a significant and meaningful way.
---
Congratulations to Audriana Mitchell 2019-2020 Miss Indian Arizona
Photo courtesy of Miss Indian Arizona Association


CRIT Royalty 2019-2020, L-R, Marilyn Lomayesva, Junior Miss; Nokomis Stone, Miss CRIT; Winter Harper, Little Miss

Photo courtesy of CRIT Royalty Pageant

---
2019 Tribal Member Distribution
October 16, 2019

Tribal Council has approved a 2019 Tribal Member Distribution payment..
---
August 22, 2019
Beginning January 2020 CRIT Entry Permits will increase..
---
CRIT Chairman Dennis Patch comments on the System Conservation Agreement with the State of Arizona
August 16, 2019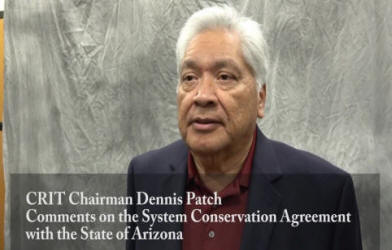 ---
Colorado River Indian Tribes Assumes Major Role In Drought Relief Efforts In Arizona and Western U.S.

August 7, 2019
(PHOENIX) The Colorado River Indian Tribes (CRIT) has been recognized by the Central Arizona Project for signing the System Conservation Agreement with the State of Arizona and its crucial role in drought relief. This took place during the August first Central Arizona Water Conservation District (CAP) regular meeting in Phoenix.
---
Federal Grant Award to Local Tribe Helps Measure Water Deliveries
August 7, 2019
(PARKER, AZ.) Today, the Colorado River Indian Tribes (CRIT) announced they will receive a $250,000 federal grant from the Department of the Interior. This award was made possible only after the tribe, Arizona Senator Martha McSally, and Rep. Raul Grijalva championed a fix to federal law permit tribes to accept WaterSMART grants and protect their tribal water rights for future development. Previously tribes were required to relinquish the conserved part of their water rights when accepting federal funding.
---
Venomous Snake Training & Handling Course
July 15, 2019


The Fish and Game Department is has posted a course on venomous snakes. For more information follow the link above.

---
Emergency Operations Plan (EOP) and Continuity of Operations Plan (COOP) 2019

https://www.eventbrite.com/e/crit-eopcoop-planning-and-water-main-after-action-review-tickets-63292350123
If you have any questions please contact Tina Evans at TinaM.Evans@crit-nsn.gov

or call (928) 575-1635.
---
CRIT ENROLLMENT OFFICE

Notice to Update Addresses to All CRIT Tribal Members:
CRIT Tribal members please contact the CRIT Enrollment office to update your mailing addresses as soon as possible. If you have any questions you may direct them to their staff at (928) 669-1240, 1241 or 1304.
---
---
CRIT HOMELAND SECURITY OFFICE
The CRIT Multi-Hazard Mitigation DRAFT Plan Flyer to the Public
CRIT Multi-Hazard Mitigation Plan Update December 2018
Region IX Tribal Hazard Mitigation Plan Review Tool
---