---
Congratulations to Audriana Mitchell 2019-2020 Miss Indian Arizona
Photo courtesy of Miss Indian Arizona Association

CRIT Royalty 2019-2020, L-R, Marilyn Lomayesva, Junior Miss; Nokomis Stone, Miss CRIT; Winter Harper, Little Miss

Photo courtesy of CRIT Royalty Pageant
---
CRIT Chairman Dennis Patch comments on the System Conservation Agreement with the State of Arizona
August 16, 2019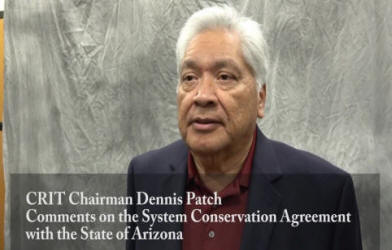 ---
Colorado River Indian Tribes Assumes Major Role In Drought Relief Efforts In Arizona and Western U.S.

August 7, 2019
(PHOENIX) The Colorado River Indian Tribes (CRIT) has been recognized by the Central Arizona Project for signing the System Conservation Agreement with the State of Arizona and its crucial role in drought relief. This took place during the August first Central Arizona Water Conservation District (CAP) regular meeting in Phoenix.
---
NOTICE TO ALL INTERESTED PARTIES OF POTENTIAL LEGISLATION AUTHORIZING THE COLORADO RIVER INDIAN TRIBES TO MARKET ITS COLORADO RIVER WATER ENTITLEMENT AND RELATED AGREEMENTS AND NOTICE OF PUBLIC MEETINGS

https://new.azwater.gov/public-notice/CRIT

The Director of the Department will accept written public comments regarding the potential legislation and agreements. Such comments must be received no later than 5:00 p.m. on Friday, January 8, 2021. Written comments can be mailed, hand-delivered or sent via email or fax. If mailed, written comments must be postmarked no later than Friday, January 8, 2021. Please send comments to:
Arizona Department of Water Resources
Attn: Sharon Scantlebury
P.O. Box 36020
Phoenix, AZ 85067-6020
(602) 771-8472 (phone)
(602) 771-8687 (fax)
sscantlebury@azwater.gov
---

COLORADO RIVER INDIAN TRIBES


December 7, 2020




SPECIAL CRIT 2020 GENERAL ELECTION INFORMATION (Click on link)
For Immediate Release
12/6/20
Contact:
Mike Scerbo
Rose + Moser + Allyn Public and Online Relations
Work: 480.423.1414
Mobile: 602.615.6523
Email: mscerbo@rosemoserallynpr.com
(PARKER, AZ.) Voters of the Colorado River Indian Tribes (CRIT) have elected Amelia Flores as Tribal Chairwoman and five members to the Tribal Council. The vote was held December 5th. The results are unofficial until the vote is certified Monday, December 7th. In addition to the Chairman's post, there were four open seats to serve four year terms on the Tribal Council and a single open seat to serve a two year term.
Tribal members cast ballots via the mail and in person, in an election process that carefully followed health and safety protocols.
Amelia Flores was elected Chair from a field of five candidates. Each received the following number of votes according to the unofficial tally.
Richard Evans 56
Amelia Flores 434
Dwight Lomayesva Jr. 188
Granthum Stevens 66
Dennis Patch 274
Johnson "JD" Fisher, Jaymee Moore, Tommy Drennan, and Robert "Bobby" Page were elected to fill four open seats for four-year terms on the Tribal Council from a field of 17 candidates. Each received the following number of votes according to the unofficial tally.
Timothy Mariscal 74
Johnson "J.D." Fisher 412
Leo Scott 234
Woodrow Sharp 314
Richard Dillon Esquerra 63
Jimmy Alcaida 227
Amanda Barrera 241
Anthony Stone Jr. 115
Tommie Miller 167
Timothy Stevens-Welsh 266
Etta Anderson 76
Robert "Bobby" Page 317
Chance Fisher 115
Tommy Drennan 371
Valerie Welsh-Tahbo 308
Lori Knighton 211
Jaymee Moore 385
Josephine Tahbo was elected to fill a two-year term on the Tribal Council from a field of five candidates. Each received the following number of votes according to the unofficial tally.
Jermaine "Boyda" Fisher 247
Daphne Hill-Poolaw 103
Josephine Tahbo 333
Erica James 111
Daris Laffoon 212
The Tribal Council will hold a special meeting on Monday December 7th at 9:00 am to make the vote official.
COLORADO RIVER INDIAN TRIBES




December 29, 2020




The recent spike in COVID-19 cases has made it necessary for the Colorado River Indian Tribes to cancel both the 2021 BlueWater Resort Pre-Fun Run, scheduled for January 8th through the 10th, and the Parker 425, which was scheduled for January 13th through the 16th.
CRIT has notified racing organizers of its decision.
The influx of thousands of racing spectators would drastically increase the number of COVID-19 cases on the CRIT Reservation when the pandemic is already reaching alarming numbers.
As the races are held on Tribal land, CRIT can cancel such events under Tribal sovereignty.
Indian Health Services has reported 141 new cases between December 1st and the 27th. The statistics are expected to escalate as recent reports continue to come in.
Overall, La Paz County has reported 473 cases between December 1st and December 29th, from 874 cases to 1347 cases. This includes a handful of delayed cases reported from November.
On December 24th, CRIT re-instated the previously approved "Stay at Home Order," also known as resolution 54-20. That order will remain in effect until at least January 31st.
Provisions of the Stay at Home order Include:
A reservation-wide curfew for all individuals from 10 pm to 5 am is except for travel for essential work or medical care.
All private gatherings, including wakes and funerals, of more than six people, shall be postponed (excluding members of the same household). Also, there is no non-essential travel.
Recreational activities are suspended. This does not exclude individuals or family units from walking around their neighborhood, playing outside in their yard, running, or biking provided social distancing is practiced. This does exclude large groups playing group sports, contact or not.
The Stay at Home Order requirements are enforceable by the issuance of a civil citation with fines from $100 up to $1000 for intentional or repeat violations.
Chairman Dennis Patch stated, "We must take this pandemic seriously and place the health of our Tribal members front and center. It would be reckless and irresponsible to permit these races to occur when COVID-19 continues to pose such an immense threat. Through common sense and cooperation, we can all turn the tide of this most recent surge. These races have been a thrilling source of recreation in the past, and we hope for their return in the future once the pandemic has passed. Thanks to everyone for their cooperation and understanding."
---
COLORADO RIVER INDIAN TRIBES




Department of Health and Social Services


November 17, 2020
The Tribal Council has approved a $150 Thanksgiving food stimulus payment to be sent to all tribal members who are the age of 18 and over as of November 1, 2020. They are being processed and will be in the mail soon.

This payment does not replace the normal distribution checks coming out soon. If you have changed your address or moved, please ensure your mailing address is updated with the Enrollment Office to receive both checks.

We understand that Thanksgiving is time for families to come together but ask that you use caution during this holiday time as Covid numbers start to rise again. Continue to be smart in your visits and use social distancing. Wear your mask and wash your hands. If you don't need to be out anywhere, continue to stay at home.

We take a moment to be thankful for making it thru the year this far and also take a moment of silence to remember those who did not.

Stay Safe everyone and have a happy and safe Thanksgiving!

Telephone (928) 669-6577 • Fax (928) 669-8881

12302 Kennedy Drive • Colorado River Indian Reservation •Parker, Arizona 85344
---
| | |
| --- | --- |
| | August 27, 2020 |
(Parker, AZ) The CRIT Tribal Council has voted to enact a Safer At Home Resolution which eases some but not all of the restructions resulting from COVID-19. The prior more restrictive Stay At Home Resolution has been in place since April 1st. The new measures are considered Phase Two of the effort to combat the Coronavirus.
This is being done as the number of new COVID-19 cases has been gradually decreasing. The CRIT community has seen only 15 new cases reported between August 1st and 23rd.
Tribal Council Chairman Dennis Patch stated, "We are grateful COVID-19 numbers have eased. That is why we are easing some restrictions. However it would be premature to say the danger has passed. That's why some measures must remain in place. This is a common sense approach that keeps our community safe and our local economy strong under very trying circumstances."
The T
ribal Council is still urging the community to shelter in place if possible, especially those with underlying health conditions. And CRIT's prior face mask rules for public settings are still in place. However some restrictions can now be eased.
The new Safer at Home Resolution goes into effect on September 1st and will remain in effect until at least September 30th. Whether or not the restrictions will remain after September 30th largely depends on the continued downward trend in new cases.
Seasonal residents who reside in any of the Mobile Home, RV Parks, housing developments or have a homesite lease on the reservation can access their residences after September 8th. That applies just to members of the immediate household of the lessee.
Indoor gatherings must be limited to 10 people and outdoor gatherings are limited to 25.
Bars, movie theaters, gyms, museums, stadium sport events, day camps (excluding child care) and concerts shall remain closed but indoor dining at restaurants may be permitted at no more than 50% capacity and a plan must be submitted for Tribal Council approval detailing health and safety standards. Churches must submit a health and safety plan before they can reopen as well.
Schools can open for hybrid in person/virtual learning provided state benchmarks for moderate or minimal transmission are met for two weeks prior to beginning in person learning and a health and safety plan is submitted to the Tribal Council.
Large venues, such as the BlueWater Resort and Casino shall remain closed unless they submit a plan for Tribal Council approval detailing a plan to maintain CDC, OSHA and CRIT standards. They must also provide details of infection prevention measures such as the use of face masks, and engineering and administrative controls for social distancing and reduced occupancy requirements, among other steps.
A reservation wide curfew will remain in effect for all individuals from 10pm to 5am with the exception of travel for essential work or medical care.
---
Federal Grant Award to Local Tribe Helps Measure Water Deliveries
August 7, 2019
(PARKER, AZ.) Today, the Colorado River Indian Tribes (CRIT) announced they will receive a $250,000 federal grant from the Department of the Interior. This award was made possible only after the tribe, Arizona Senator Martha McSally, and Rep. Raul Grijalva championed a fix to federal law permit tribes to accept WaterSMART grants and protect their tribal water rights for future development. Previously tribes were required to relinquish the conserved part of their water rights when accepting federal funding.
---
Venomous Snake Training & Handling Course
July 15, 2019


The Fish and Game Department is has posted a course on venomous snakes.
For more information follow the link above.
---
Emergency Operations Plan (EOP) and Continuity of Operations Plan (COOP) 2019

https://www.eventbrite.com/e/crit-eopcoop-planning-and-water-main-after-action-review-tickets-63292350123
If you have any questions please contact Tina Evans at TinaM.Evans@crit-nsn.gov

or call (928) 575-1635.
---
PRESS RELEASE
Colorado River Indian Tribes Offer Large Supply of Water to Arizona's Drought Contingency Plan Providing Buffer for Lake Mead
---
---
Secretary of the Interior designated Poston Elementary School,
Unit 1; Colorado River Relocation, a National Historic Landmark

October
17, 2012
WASHINGTON, D.C.—Secretary of the Interior Ken Salazar today announced the designation of new National Historic Landmarks in sixteen different states, including a site associated with the internment of Japanese American citizens during World War II as well as the site of a government-sponsored "greenbelt" community built during the Great Depression.
---
Genesis Solar Energy Project
March 19, 2012
Updated April 5, 2012
The Genesis Solar Energy Project site is located approximately 30 miles west of the Colorado River
Indian Reservation adjacent to Dry Ford Lake, an ancient lake bed that was used by tribes in the
area and within CRIT's tradtional ancestral homeland. Approximately 1,700 acres in this area will be
bulldozed and graded, covered with mirrors, troughs, towers, and turbines are planned for the site.
---
Topock Compressor Station Ground Water Remediation Project
March 19, 2012
On April 14, 2011, the Tribal Council for the Colorado River Indian Tribes (CRIT)
provided the following statement of its position regarding the Topock Compressor Station
Ground Water Remediation Project:
---
CRIT Position on Arizona Medicaid Section 1115 Demonstration Waiver
January 24, 2012
Position of the Colorado River Indian Tribes in Regard to the Issuance
of a Waiver of Changes Affecting American Indians as a Result of the
Approval of the Arizona Medicaid Demonstration Project Waiver
March 14, 2012
---
Wildfire Consumes 96 Acres
June 10, 2010
---
CRIT evicts Blythe Boat Club
May 27, 2011
On Tuesday, May 17, 2011 the
Colorado River Indian Tribal Court
ruled to evict the Blythe Boat
Club after negotiations with the long-standing tenant broke down; forcing the Tribes on May 25
th
to remove the club, which was operating without a valid lease, from Tribal lands.
---
CRIT Police Department Announces Holiday DUI Checkpoint
May 26, 2011
Parker, AZ--- The Colorado River Indian Tribes Police Department will be out in
force to ensure the roadways are safe and secure for our out-of-town visitors and
local community residents, by hosting a DUI Checkpoint on Sunday, May 29th.
Colorado River Indian Tribes Police Department would like wish everyone a happy
and safe Memorial Day weekend and remind all those who plan on using alcohol this
holiday to celebrate responsibly, by designating their sober drivers before the parties
begin.
CONTACT: The Office of Communications and Public Relations,
Ivy Ledezma ivy.ledezma@crit-nsn.gov

---
Construction of New CRIT JDC Facility to Commence Soon
March 2, 2011
In September 2009, the Colorado River Indian Tribes (CRIT) was awarded a Federal grant under the
American Reinvestment and Recovery Act to fund construction
---
If you are a Native American who was denied a farm loan or loan servicing by the USDA,
you could be eligible to receive benefits from a Class Action Settlement

February 9, 2011
Click here for more information
---
CRIT Law Enforcement Cadet Graduates Top In Class
November 02, 2010
---
Obituary - Clifton Michael Welsh
September 15, 2010
---
Open letter to the Residents of Water Wheel Resort
August 20, 2010
---
Statement Regarding the Impoundment of a Trailer from Lot 20 of the Twin Palms/Wind River Subdivision
July 23, 2010
---
Westbank Homeowners Association
July 21, 2010
---
9th Annual Colorado River Indian Tribes Fall Gathering
November 21, 2009
---
Parker Annual All-Indian Rodeo
November 5, 2009
---
A message from Chairman Enas on the recent Water Wheel legal decision
October 14, 2009
---
CRIT Scores Significant Legal Victory in Water Wheel Case
September 28, 2009
U.S. District Court Upholds Decision Against Water Wheel, Inc., Including Multi-Million
Dollar Award of Damages to CRIT For Ongoing Lease Violation
---
CRIT works to address fires affecting area
August 26, 2009
Offer reward for information on hay fires, other incidents causing damages
---
New Walmart center opens doors
August 26, 2009
Store will create revenue, jobs, shopping opportunities for area
---
CRIT, County form partnership to fight drugs
August 26, 2009
New agreement centered around drug trafficking and other related offenses
---
Council focused on budget and accountability
June 11, 2009
The CRIT Tribal Council has taken a proactive approach in the administration and
accountability of the Tribes finances to ensure Tribal services and Tribal enterprises
remain in tact despite the national economic crisis.
---
Beloved elder Tom Claw passes away
June 11, 2009
Former Navajo Code Talker, 87, was one of Tribes most respected figures
---
New name picked for Wal-Mart center
April 10, 2009
River Peoples Plaza selected to be name for under-construction project.
---
Laffoon Rejoins Tribal Council After Special Election Victory
February 24, 2009
Herman TJ Laffoon has reclaimed a seat on the CRIT Tribal Council by winning a special
election held on February 13.
---
New CRIT Tribal Council assumes duties
February 3, 2009
Scott voted new Tribal Secretary and Welsh assumes Tribal Treasurer spot.
---
Special election scheduled to fill last seat
February 3, 2009
Eight candidates have been verified for the ballot to fill a vacant seat on the CRIT Tribal
Council in the February 13 Tribal Special Election.
---
Information on CRIT vs. NIGC Ruling
---
CRIT Elects New Chairman, Vice Chairman, Four Councilmembers
December 22, 2008
Eldred Enas was elected as the new Chairman of the Colorado River Indian Tribes
in the Tribes elections on December 6.
---
CRIT Tribal Council Passes Domestic & Family Violence Code
December 15, 2008
Changes to take effect on February 1, 2009.
---
Tribal Council elections to be held Dec. 6
October 20, 2008
Four Council seats up for public vote; candidate petitions due by Nov. 2

---
Wal-Mart breaks ground on center
October 17, 2008
Construction beginning with estimated timeline of one year; opening late '09

---
Vacancies open on CRIT Boards, Committees, and Commissions
October 13, 2008
Per action of the Tribal Council, April 12, 2008, advertisement is to begin each October
for appointments to be made for various vacancies in December and commencement of respective terms in January.

---
Notice for Public Comments on Proposed Domestic and Family Violence Code
September 19, 2008
A Public Hearing will be held on Monday November 10, 2007, 10 a.m in Council Chambers for public feedback

---
U.S. Department of Justice confirms CRIT's reservation boundary in California;
West Bank Homeowners Association members and other property leasees must
have leases and must pay rent
June 19, 2008
The U.S. Department of Justice has once again confirmed the Federal Government's long-standing
position that the Colorado River Indian Tribes' reservation boundaries spread into California.

---
Trial Court Finds In Favor of CRIT in Water Wheel Case; Orders Eviction,
Damages of Nearly $2 Million For Lease Violation Along Colorado River
June 17, 2008
The Colorado River Indian Tribes' Trial Court last week ordered that Water Wheel Camp
Recreation Area, Incorporated and Robert Johnson, its owner and operator, can be evicted from the property by CRIT.

---
CALL FOR DESIGN ENTRIES
June 16, 2008
CRIT Library/Archives are seeking a design to be used as the logo for the CRIT Library/Archives
50TH Anniversary Celebration. The celebration will be held in October in conjunction with National Indian Days.

---
CRIT member dies in action in Afghanistan
June 13, 2008
CRIT lost one of its young people in May as a tribal member serving in Afghanistan was killed in action. Pfc. Ara Tyler Deysie, 18, died on May 9 in a grenade attack in Afghanistan's Paktia province. A member of the Army's 101st Airborne Division, he was one of several soldiers who lost their lives from the 101st that week in Afghanistan.

---
CRIT allocates more than $43K to projects
June 12, 2008
CRIT has allocated more than $43,000 from its Tribal gaming contribution to community
needs in La Paz County. The contribution, part of the compact between the Tribe and the
State of Arizona that governs certain kinds of Indian gaming, is the latest in CRIT's sharing
of gaming revenues with the community.

---
CRIT denounces California land-grab effort
April 7, 2008
A group of non-Tribal members leasing land from CRIT have formed a group with
the expressed goal of stripping away CRIT's land in California and challenging
Tribal sovereignty. The informal group has retained an attorney, and have gone to
local and regional media outlets to argue that CRIT's boundaries do not extend into California.

---
Wal-Mart signs lease, sends first payment to CRIT
April 4, 2008
Wal-Mart has signed a lease with CRIT to build its new store in Parker, and has sent the first lease payment to the Tribes. The signing was a final step in the long process to bring the store to the community and to begin to develop a new shopping center across from the Safeway Center on Highway 95.

---
Free tax preparation offered for members
February 14, 2008
Tax help could lead to reductions in amount of tax owed, tax refunds

---
Planning nears completion for new Wal-Mart
February 12, 2008
Construction of new shopping center in Parker could begin in mid-2008

---
CRIT member celebrates World Series victory
December 8, 2007
Ellsbury's insertion into lineup helps Red Sox turn tide, win championship.

---
BlueWater remodeling drawing to a close
December 7, 2007
Most construction will be finished in December with many improvements.

---
Fall Gathering November 17th 2007
October 31, 2007
It's time once again for the Colorado River Indian Tribes Annual Fall Gathering. All the tribes will come together to dance, meet new friends and share traditions, culture and just have fun.

---
Statement from CRIT Chairman Daniel Eddy Jr. on the Failure of Proposed Recall Effort
October 30, 2007
I was gratified, but not surprised, to learn that a sweeping recall effort against the entire Tribal Council had died for apparent lack of interest and support...

---
Tribes pitch in to help Salome, Quartzsite, build new facilities
October 16, 2007
Revenue from the BlueWater Resort and Casino is not just helping the Colorado River Indian Tribes, it is also strengthening and improving other neighboring communities.

---
Tribes move to evict mobile home park manager after years of unpaid rend, residents to be unaffected
October 16, 2007
The Colorado River Indian Tribes have moved to evict the manager and lease holder of the Water Wheel Camp Recreation Area, a mobile home park on tribal land in California.

---
CRIT Names Armstrong New Chief of Police
October 16, 2007
First Goal: More Officers, Proactive Policing

---
CRIT Tribal Secretary Defends Gaming Victory Before Senate Committee
August 29, 2007
Comparing the idea to using an elephant gun to hunt a flea, CRIT Tribal Secretary Valerie Welsh-Tahbo recently joined tribal leaders from around the nation in testimony before Congress to speak out against draft legislation that would increase federal oversight of Indian Casinos and infringe on tribal sovereignty.

---
Native American Indian Days coming in October
August 7, 2007
The Native American Indian Days Celebration Committee has announced the theme of "Rediscovering Traditions, Preservation on our Reservation" for the 35th annual celebration scheduled October 1-6, 2007.

---
BlueWater Celebrates 8th Anniversary
June 4, 2007
Invites public to join June celebration, including culture, gaming and music.

---
Education Department works to start Tribal school
April 1, 2007
Would begin with Kindergarten and 1st Grade; eventually will add more levels

---
CRIT Tourism Office has Moved
February 16, 2007
---
Enas wins Vice Chairmanship and new faces join Tribal Council
December 14, 2006
---
Vice Chairman, Council seats to be decided
November 21, 2006
Three run for Vice Chairman, 16 for three council seats in December 2 vote

---
CRIT's legal win in gaming case upheld by court
November 20, 2006
Appeals court reaffirms sovereignty over inappropriate federal regulation

---
Tribal Council elections to be held Dec. 2
October 16, 2006
Four Council seats up for public vote; candidate petitions due by Nov. 2

---
BIA neglect causing crisis in juvenile detention for tribes throughout Arizona
October 15, 2006
There is a crisis in Indian Country, but amazingly, no one with the Bureau of Indian Affairs (BIA) seems to care.

---
Colorado River Indian Tribes Education Department and Parker Unified School District
August 18, 2006
Parker Native Students Get Shakespeare Opportunity

---
Drug testing of employees about to begin...
August 4, 2006
Tribal Council already tested; other offices will follow in coming weeks.

---
CRIT Athletes Strike Gold at North American Indigenous Games
July 7, 2006
Fifteen CRIT girls and girls from two other tribes played for Team AZ in this year's North American Indigenous Games 2006 in Denver, Colorado. Photo gallery also included.


---
Tribal tax code generating needed revenue...
June 4, 2006
CRIT juvenile justice efforts receive $1.6 million boost in first year alone.

---
New facility to help with health...
June 2, 2006
CRIT members are about to have a significant new resource available to them to improve their overall health and fight diabetes and other diseases.

---
Businesses disrespect our people...
April 6, 2006
Recently, California State Assemblyman Bill Maze and Mayor Sam Heeringa of Parker raised questions about CRIT's status in California. However, those questions are easily addressed.

---
Tribal efforts to fight meth use continue...
April 5, 2006
CRIT's efforts to curb meth use on the reservation have received a couple of significant boosts.

---
La Paz Regional Hospital Gets $50,000 From CRIT
March 28, 2006
The Colorado River Indian Tribes (CRIT) presented the La Paz Regional Hospital with a $50,000 check from funds generated by the BlueWater Resort & Casino.

---
Senator Kyl to Host Service Academies Conference 2006
February 10, 2006
All Arizona students, parents and faculty are welcome to attend. Admissions officers will describe the unique academic, career and military opportunities of the service academies. Congressional staff will explain the required Congressional application and nomination process.

---
Senator Kyl visits CRIT, meets with council...
January 16, 2006
U.S. Senator Jon Kyl visited the CRIT reservation in late December and met with the Tribal Council about important issues facing CRIT members.

---
CRIT gets grant for produce cooler...
January 15, 2006
On December 20, the federal Department of Commerce awarded the EDA Public Works Grant to the Colorado River Indian Tribes.

---
2005: It was a very good year...
December 9, 2005
From economic development to legal issues to the return of lands taken 90 years ago, 2005 was a year of victories for CRIT and its people. It was a year that will be remembered by many Tribal members as one where new opportunities surfaced for the Tribes, and a year when many long-time battles were resolved in CRIT's favor.

---
Site plan considered for Wal-Mart center...
December 8, 2005
The CRIT Tribal Council will soon be considering a preliminary site plan for the new Wal-Mart Shopping Center being built across from the Safeway Plaza in Parker. The project would provide new convenience for Tribal members and millions in new tax revenue for critical Tribal services.

---
CRIT Demands Retraction of Misstatements by Johnson Thompson LLP
November 30, 2005
An "Indian" law firm with offices in Nebraska and Montana has sent out a newsletter which completely misstates the holding in CRIT v. NIGC and incorrectly states that CRIT has refused to provide financial documents to the NIGC. Click here to review the CRIT response to the offending newsletter. (PDF Format)

---
CRIT Response to Senator John McCain
October 14, 2005
As the Chairman of the Tribal Council of the Colorado River Indian Tribes (CRIT), I am writing in the hope of clarifying some of the points and statements made during the September 21, 2005 oversight hearing of the Senate Indian Affairs Committee on the regulation of Indian gaming. To that end, we would ask that this letter be made part of the official record of that hearing. Read More

---
Arizona Governor Janet Napolitano's Letter to the Senate Committee on Indian Affairs (PDF Format)
October 4, 2005

---
Colorado River Indian Tribes respond to Gaming Magazine's Article
September 26, 2005
I write in response to your September 23 article on Senator McCain's reaction to the federal court's ruling on the authority of the National Indian Gaming Commission. As the plaintiff in this case, we want to thank you for covering the issue but need to set the record straight on several factual errors that unfortunately appeared in the article. Read More

---
Fall Gathering coming in November
Read More

---
Native American Days Celebration Coming September 29th through October 1st
Read More

---
Federal Judge Rules National Indian Gaming Commission Exceeded Its Authority, Improperly Regulated Tribes
August 30, 2005
It's been a good month for the Colorado River Indian Tribes (CRIT). In early August President Bush signed a bill passed by Congress to right a historic injustice and return over 15,000 acres near Interstate 10 to CRIT. And just last week a federal judge sided with CRIT in ruling that the federal National Indian Gaming Commission overstepped its statutory authority in imposing standards on Class III gaming activities conducted by tribes. Read More

---
It's Official — La Paz Lands Returned to CRIT
August 3, 2005
A struggle that has lasted for almost a century is now over. The La Paz Lands, a massive tract of land off Interstate 10 south of the current reservation, has been restored to the Tribes thanks to a measure passed by the United States Congress and signed a few days ago by President Bush. Read More

---
CRIT Tribal member excels in College World Series; drafted by Boston Red Sox
June 12, 2005
CRIT Tribal member Jacoby McCabe Ellsbury and his Oregon State University team won the Super Regional of the College World Series against the University of Southern California, and have advanced to the NCAA World Series in Omaha, Nebraska from June 17-27. Read More


---
Blythe OKs California casino deal...
June 4, 2005
On May 10th, the Blythe City Council approved a Municipal Services Agreement (MSA) with CRIT on a new gaming facility in the California community. Read More


---
Fire restrictions likely to continue...
June 3, 2005
CRIT has been forced to close significant portions of the reservation to the general public because of fire danger, and fire officials expect the closures to last throughout the summer. Read More


---
CRIT Closes Portions of Reservation Because of Fire Danger
April 20, 2005
Media Asked To Assist Regarding Notice of Closures Including Large Portions of Land Along Colorado River; Fires Already Taking Their Toll on CRIT Lands, Access To Blue Water Resort & Casino, Related Activities Not Affected Read More

---
Final votes may come soon on La Paz Lands
April 11, 2005
After years of work, final votes may be near in the U.S. House of Representatives and U.S. Senate on the return of the 16,000-acre La Paz Lands to CRIT. A delegation from CRIT including Tribal Councilmembers Sylvia Homer, Ray Aspa and Valerie Welsh-Tahbo travelled to Washington in late February to meet with key congressional staff members and Congressmen. Read More


---
CRIT Launches Comprehensive Tribal Web Site
March 14, 2005
The Colorado River Indian Tribes have launched a comprehensive web site to provide information to Tribal members, tourists and those interested in doing business with the Tribes. It is the latest in a string of tribal initiatives to improve communications as well as the life of members. Read More


---
Tribal Election results favor incumbents, former councilman...
December 20, 2004
The only change in the Tribal Council after the December 4th elections is the return of a familiar face. Fernando "Bo" Flores, a former Tribal Council member, was returned to the council by voters after a two-year absence. Read More


---
City of Blythe Approves MOU with CRIT for negotiations on new gaming facility...
December 14, 2004
The City of Blythe, California in late November voted to approve a Memorandum of Understanding with the Colorado River Indian Tribes to negotiate an agreement to construct a new gaming facility in or near the community. Read More


---